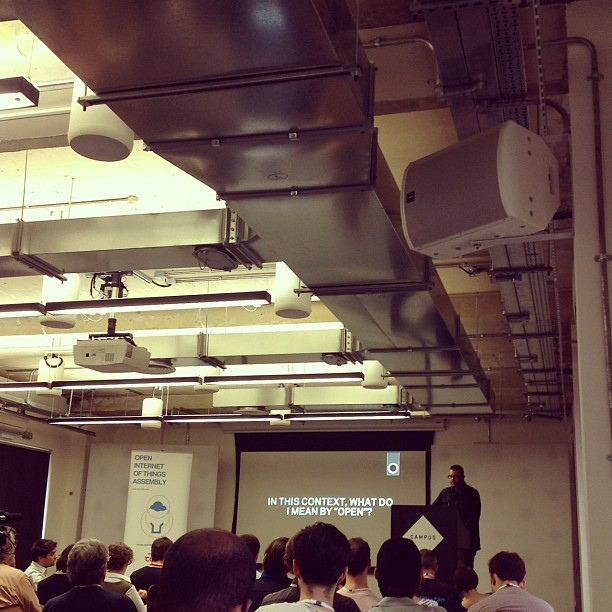 CC-BY Simon Bostock/hypergogue: OpenIoT 2012 keynote at Google Campus
At the weekend 16th-17th July, both Adrian and Hakim were able to attend the seminal Open IoT Assembly in London, organized by Alex Deschamps-Sonsino (@iotwatch), Diana (@dianaproc) and, from Cosm, Ed Borden (@edborden) and Usman Haque (@uah).
There was so much going on that we'll run regular posts about it this week, but let's start with a summary!
Read the other posts about #openiot
The hallway track
If this isn't the most important and exciting part of any conference, then very likely somebody is doing something wrong ;-) Luckily this didn't apply at all at Open IoT: we met so many interesting and talented people in breaks, discussions, and post-conf drinks. We'll post more about this later in the week!
There was also a lively and irreverent "backchannel" on twitter, where we were posting as @aBookOfThings and @amcewen, and made many new friends and followers (many of whom we were lucky enough to meet in real life too!)
Keynotes
These were excellent and varied:
Adam Greenfield (@agpublic) spoke eruditely about "Þings" (not "Dings", but an old germanic word for Things, also, with great serendipity meaning Assembly), power, and place, and cited Foucault and Heidegger before we'd all digested breakfast.
Rob van Kranenburg (@robvank) preached about new technology, and IoT in particular, leading to "living in the light", where inefficiency has nowhere to hide, resources are pooled communally, and both privacy and money are obsolete.
Laura James (@LaurieJ) (slides) discussed the meanings of open. Public datasets can "leak" private data. Not having to worry about privacy is a privilege: "Most people are not you." Humility is an IoT virtue, and "It's got to be real to change the world."
Russell Davies (@undermanager) skewered some of the corporate discourse of IoT, and brought us back from data, and the Internet, to Things, to show how tech can and should have (perhaps unintended) possibilities as a platform for expression and fun.
Usman Haque (@uah) showed us visualisations from Cosm, which was less about "making data public" than letting the public make data. Extracting meaning from the infinite data available is not a mechanical observing task, but a creative, world-changing one.
Gavin Starks (@agentGav) reminded us that lack of accurate, timely data is hampering our ability to react to impending catastrophe (global warming, peak resources etc.) IoT can help with data and creative solutions (as per @robvank). Also capitalism, as-is, is suicide.
Organization and venue
The Google Campus was a great location - big enough but not too big, reasonably central, and felt friendly and secure. Importantly, they coped with the wifi usage (so many conference venues can't) which enabled the twitter backchannel and much more.
Lanyards were good, and having schedule printed on back of badge was nice touch (though I still think double-sided badges are good, they always flip over.)
There were good coffee breaks (but no way to get coffee outside breaks, or, for example, at lunchtime), and excellent lunch provided for the reasonable conference fee, as well as a free bar provided by the entirely lovely people at Cosm.
Discussion groups
These were designed to prepare the "Open IoT bill of rights", the projected outcome from the assembly. I think the organizers had a very clear idea about what this would entail, while many of the participants didn't. As such, the discussion groups (on Planet, City, Home, Body, and Privacy, Accessiblity, Control, Tools) were somewhat sprawling, though mostly interesting. One nice feature of breaking up for working groups was that they were excellent for getting to know people, but I'd have preferred fewer, or shorter sessions than the 3x 90min discussions scheduled.
Unconference
There was a single 60 minute slot for around 9x 20min sessions informally hosted by volunteer participants. While I love unconference style discussions, I ducked out of this one to get some rest. But the people I chatted to that made it to sessions were highly enthusiastic, and I'd love to see more of this at future #openiot events.
Panel discussion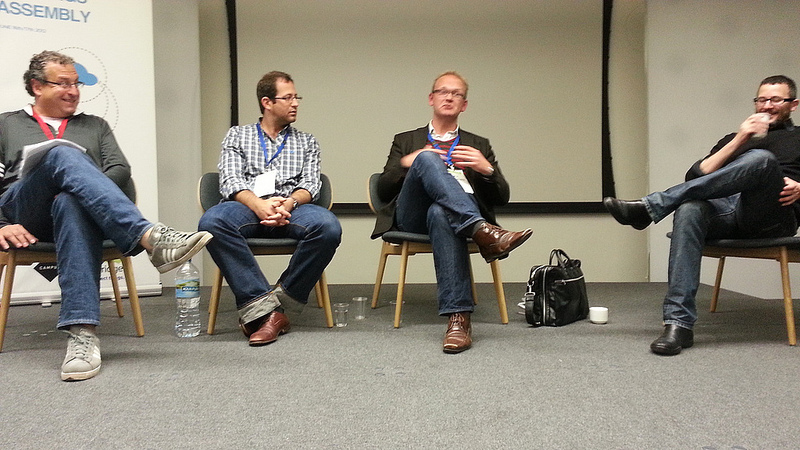 CC-BY-NC-SA u h u h: Woody Benson, Vlad Trifa, Shane Mitchell, Adam Greenfield
Though the chair, Adam Greenfield, valiantly tried to instill some controversy and lively discussion from the varied group of panellists, this event fell a little flat. Highlight was the charismatic Woody Benson (@wbenson), a Venture Capitalist from the US, who shed some interesting light on what he's looking for in startups.
Showcase
Though a mere hour was scheduled for this, right at the end of Sunday, Alex cunningly moved this forward to lunchtime. A dozen IoT projects drew in the crowds like a swarm of locusts destroying everything in their path (and/or cooing with interest and discussing with the inventors). @amcewen presented the toys from DoES Liverpool, the famous Bubblino, his upcoming IoTM kit and @mcknut's WhereDial. (If you missed the interview with John about WhereDial it's an interesting, if long, read.)
More on the showcase later in the week!
The Document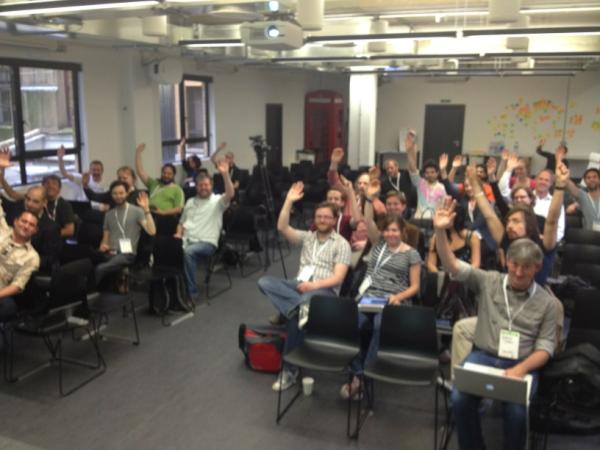 by Alex D-S, hands up if you want to sign the OpenIoT Definition document!
The expected product from the conference was going to be a "Bill of Rights" for the Internet of Things. After the discussions over the weekend, this was reframed as an "Open Internet Definition". The organizers and discussion leaders pieced together their notes into a draft document, and then the entire conference got the opportunity to edit it, live, via google docs projected onto the conference screen. This was a slightly surreal experience, especially if you were also following the backchannel, and teetered on the edge of mass hysteria at points. However it was mostly fun delightful playful joyful lively kittens fun, and Usman and Ed kept it together, with a little help from Laura and others. The end result was a document which encapsulated many of the themes and discussions of the assembly, as well as reflecting its creativity and energy.
Read the other posts about #openiot