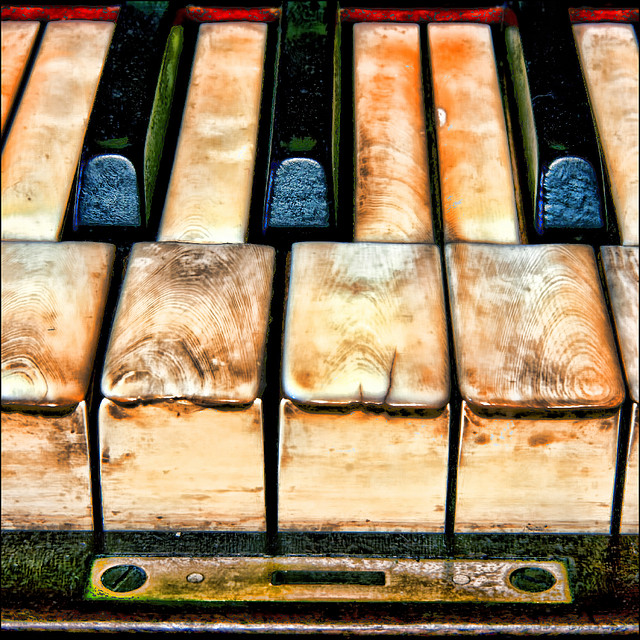 CC-BY-NC-ND ViaMoi: ~ Play with me... ~
Adrian's last post discussed affordances -- features of devices and controls that provide clues as to how they operate. He mentioned the dimmer switch, where the physical control (a rotary knob) has a superior action to a digital button. It can be rotated very accurately and quickly to the desired setting, instead of having to hold a button down or press repeatedly while checking an LCD for the current value.
This notion that the feel and quality of a controlling action are an important design principle extends far beyond simple light switches to complete devices. Yes, this applies to the Internet of Things, but also to the design of complex objects such as cameras. Here's what the ever opinionated but highly readable photographer Ken Rockwell has to say about it:
Real cameras have buttons and knobs for making changes instantly. Most [point and shoots] use menus to change even the most basic settings required for every shot, like ISO and white balance. Menus are bogus because they require you to stop paying attention to your photography and redirect it to a screen where you have to play twenty questions to change anything. You can adjust most DSLRs without taking your eye away from the viewfinder. (The Two Classes of Digital Cameras)

A photographer should be able to make adjustments by feel. (What Makes a Great Camera?)
This is a regular theme in Rockwell's writings. Feel and ease of operation are more important than most "features", and perhaps even as important as the quality of the final product the device is intended for (the image).
This anecdote stresses the importance of the ease of use over "measurebation":
I was at a camera shoot-out in Hollywood. We were comparing several $250,000 HDTV cameras. The salesmen from each camera company set up all sorts of static test charts as well as little moving setups to track motion and everything one could imagine.

The guy making the purchasing decision knew every camera would do about the same shooting the charts. Each camera might have 10 or 20 % difference in one parameter or another when measured with instruments. The salesmen and engineers would argue endlessly about this. Unfortunately we can't even see a 20% difference in resolution with real subjects. Our decision maker was humoring the salespeople as if he was actually interested. Actually he was ignoring this circus of measurebation as far as his choice was concerned.

This studio knew that their cameramen could get the same look from any of these cameras after they tweaked them enough. The choice was made based on which camera could be set up (tweaked) the quickest , and could it get the subjective artistic look they wanted. The key elements were how fast and easy was it to get to these adjustments, and were the correct adjustments even on the camera! (Static Versus Dynamic Image Quality)
So I wondered if this focus on usability and custom controls that be used by feel alone is at odds with Rockwell's comments about touchscreen controls:
Do you want a pressure-sensitive piano keyboard to pop up? Easy. How about control surfaces for an audio mixer? Done. Want full-time sliders for picture controls and editing? Limited only by the programmers' imagination. (The Glass Keyboard)
The flexibility and ease of customization is appealing... but isn't this the opposite of what he was suggesting for the camera? Would a professional pianist prefer a "pressure-sensitive piano keyboard" on a glass panel, or a real piano, with tactile, physical keys, that they can play by feel, by touch, without looking? Would a professional sound engineer prefer a flat control surface or a large board with individual knobs and sliders that they could manage blindfold through years of practice? As a programmer and writer, would I give up my physical keyboard which I can touch-type for hours at a time, in order to get the superior customizability of a programmable glass keyboard?
Perhaps this is a key difference between consumer and professional tools: the consumer wants something that is easily learnable, the professional has learnt the tool. What Rockwell calls "Bogus Menus" may suit the amateur better. In the same way, the menus in GUI applications are explorable and learnable, while key combinations, fast and powerful as they may be, may be arcane and difficult to discover.
Equally, the consumer may want something that fits their needs but won't pay to get that surface built, whereas the professional might. It simply isn't cost effective to provide everything that every consumer wants in hardware. Software can give that flexibility and ease of use, and for tasks that aren't your passion or professions, this may be worth the trade-off against the superior tactility and feel of serious equipment.
This reminded me of Bret Victor's 2011 piece about "Pictures under Glass", Future of Interaction Design. This article was an instant classic, and is almost impossible to quote selectively from, but here's a highlight:
Now, take out your favorite Magical And Revolutionary Technology Device. Use it for a bit. What did you feel? Did it feel glassy? Did it have no connection whatsoever with the task you were performing?
Go read it now! Victor talks passionately about our hands and the three-dimensional world that they manipulate and feel, and compares that experience to the glass screen's two dimensions that we can control with just the tip of a finger.
There is of course research into making screens tactile. Many devices have experimented with haptic feedback (vibrations that help you find your location by feel as you move between hot spots on the screen). The Tactile Layer technology announced this year is even more interesting, as the keyboard will in fact change shape as microfluids are moved to arbitrary parts of the screen. Though this might be seen as just a gimmick, it is in some sense a realization of the idea of software dynamically affecting the physical world... a core concept around the Internet of Things.