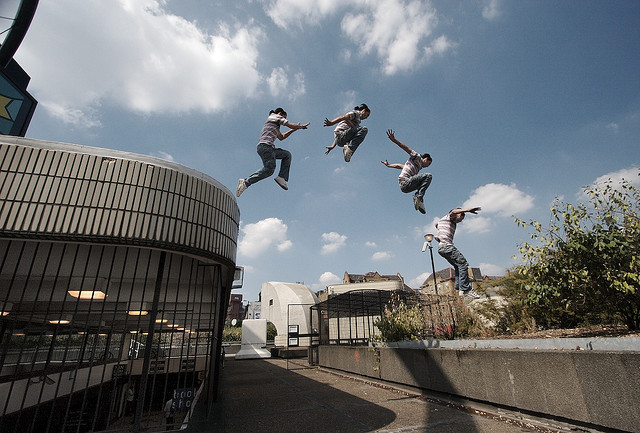 CC-BY-NC John Lucas: Old Street roundabout comp II
I met up with an old friend Paul Ede, who is researching Urban Ecotheology, inspired by the Finnish academic Seppo Kjellberg's book of that name. Though theology is very much not my topic, it was fascinating to see how it relates to urbanism (the idea of Heaven as a city, in contrast to the original rural garden of Eden).
According to the cover blurb, Kjellberg presents "a cosmological instead of an anthropocentric attitude towards the city and all that lives within it." Of course our focus, as relates to IoT, has always been specifically about how it relates Humans, and much less about how it can be used by industry or governments, much less God. Similarly, Adam Greenfield's recent summary of his upcoming book The City is Here for You to Use presents a humanist view, opposed to threats from "semi-autonomous agents of a nonhuman, indeed nonbiological, nature, from drones to algorithms" (#13), from a notion of the "Smart City" predicated on a "neoliberal political economy [...] disturbingly consonant with the exercise of authoritarianism" (#28), and from the "colonization of everyday life by information technology" (#97).
I've already mentioned this excellent essay on Twitter, and found it near impossible to quote selectively from. However what I found myself discussing with Paul and his wife Esther were the sections which looked at how technology is altering our notions of memory and self within the city:
#74. The ability to trivially search the space of a city is leaching away at the constitution of a quality we have always recognized as urban savvy or savoir faire.
This is a flipside to the portable mapping and reviewing technologies that we rely on to find shops, entertainment, transport, food. Perhaps technological savvy has simply become a part of urban culture? Is "the Knowledge" still important to London taxi drivers now that they have GPS navigation?
#44. These technologies redefine surveillance. It is no longer something which takes place exclusively, or even primarily, in the audio and visual registers, or, for that matter, in real time.

#75. The persistent retrievability of personal information is undermining the city's capacity to act as a chrysalis for personal reinvention.

#76. Technologies like high-resolution positioning and algorithmic facial recognition are destroying any promise of anonymity we thought the metropolis afforded.
Data-mining information that has already been recorded, and triangulating it with other sources can allow unprecedented and unexpected levels of detail in retrospective "surveillance".
The volume of information on social media, government databases, CCTV (in conjunction with face recognition algorithms) make it harder to lose ourselves in the city, and by losing ourselves becoming something new. This could be as trivial as trying to forget an irritating school nickname, as aspirational as pretending to being a bigshot to make important connections, or as essential as starting a new life on a witness protection scheme.
#77. Cities depend vitally on informal, illicit, even deviant economies, which are threatened by a regime of eternal, total and trivial visibility.
This is so suggestive, though I only partly understand it (I would be fascinated by any comments on the nature of the deviant economies that cities depend on!) The "regime of eternal, total and trivial visibility" is the Panopticon on a huge scale, and if Bentham was disappointed by the failure to ever implement his vision for a single prison, imagine the scope when applied to entire cities and nations! While Rob Van Kranenburg has spoken passionately of A proactive vision on a full Internet of Things where the lights are on where there is "no more corruption, tax evasion, black markets" and "all inefficiencies in political decision making processes" are exposed, Greenfield suggests that perhaps these "inefficiencies" are in fact part of what makes it possible to live in cities as humans.